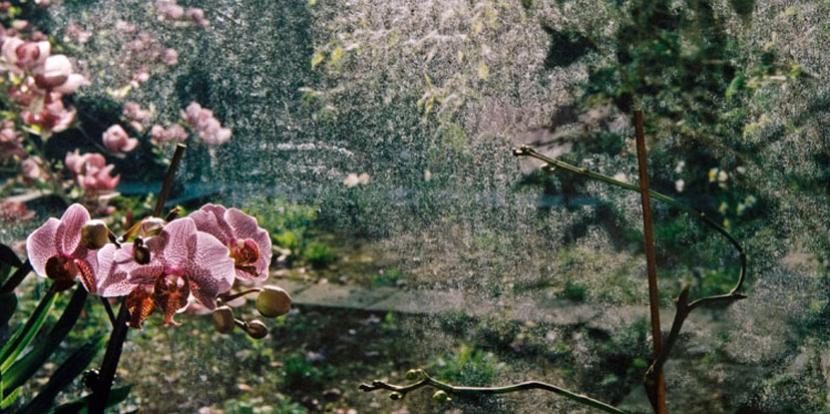 Hermann Kirchhof, Naturfotografie
Entdeckungen
Genau so wie es gemalte Bilder gibt, die so aussehen, als wären es Fotografien, gibt es auch Fotografien, die den Anschein erwecken, es handele sich um gemalte Bilder, um abstrakte Werke. Zu diesen gehören auch viele der Fotografien von Hermann Kirchhof.
Erst schwarzweiß, später in Farbe, fotografierte und fotografiert Hermann Kirchhof zwar Landschaften, doch sieht man weder Berge noch Täler. Denn Hermann Kirchhof fotografiert das Detail. Das kann verwittertes Holz sein, im Wald liegend, das aussieht wie ein abstraktes Relief oder ein wenig Schnee, auf den Schatten fallen und bei dem man eher das Gefühl hat, es handele sich um eine weite Wüstenlandschaft, in der man meint, das Flirren der Sonne zu spüren. 
Im gefrorenen Schneematsch erstarrte Gasblasen werden zu schwimmenden Kugeln und gefrorenes Eis erinnert an die Frottagen von Max Ernst. 
In all den Bildern ahnt man die Natur, erkennt aber häufig nur mit Hilfe der ausführlichen Titel, worum es sich wirklich handelt.
.....
Discoveries
Just as there are painted pictures that look as if they were photographs, there are also photographs that appear to be paintings, or abstract works. This also applies to many of the photographs by Hermann Kirchhof. Initially in black and white, later in colour, Hermann Kirchhof took and takes photographs of landscapes, although you can see neither mountains nor valleys. Instead, Hermann Kirchhof photographs the detail. This can be weathered wood, lying in the woods and looking like an abstract relief, or a little snow on which shadows fall and that suggests more an expansive desertscape with the shimmer of an imagined sun. Gas bubbles solidified in frozen slush become hovering spheres and frozen ice recalls the frottages of Max Ernst. In all of these pictures you suspect nature, but often only the extensive title tells you what you actually have before you.